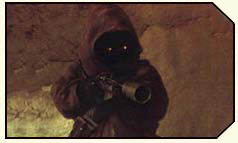 Pricing and Availability:
Every figure, ship, and playset listed on our website is for sale. However, there are a lot of Tusken Raiders out there who like to buy out our inventory quickly, so don't delay! Our toys are sold on a first-come, first-served basis!



Minimum Order:
Presently, we have no minimum order requirements.



Payment:
All prices are in U.S. dollars. Orders are shipped prepaid via credit card (Visa, Mastercard, Discover, and American Express), cashiers check, or money order.



Sales Tax:
A 7.25% sales tax will only apply to all North Carolina residents.



Shipping:
Shipping charges will vary based on size and weight. We will always try to ship the most economical way possible; we highly recommend Fed-Ex, but they do not ship to a P.O. Box. If you have a carrier of choice, please specify this. Shipping costs are paid by the buyer. For international shipping, please call for a price quote.



Order Status:
If your order doesn't arrive in two weeks, please call or
e-mail us to inquire why.



Returns:
We do not sell on consignment or guaranteed sale basis. All sales are final.



Problems:
If there is any problem with your order please call us at
1-919-848-1888, and we'll do all that we can to resolve it.



Notice:
All purchases are subject to availability.