We would be honored
if you would join us
on
Facebook.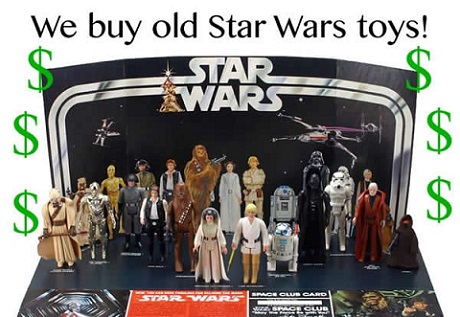 Welcome to Vintage Star Wars Toys Toy Store

Welcome to Tatooine Toyland - your home for affordable, high-quality old vintage Kenner Star Wars toys from the 1970's and 1980's. Remember those beloved old Star Wars toys that you played with as a child or even older?

Do you remember the day when they could no longer be found in your toybox?

Why you may ask? Well, they were probably thrown away or sold in a garage sale for just pennies. Well, cheer up! We can help you regain some of these lost vintage Star Wars toy treasures from your childhood!





We at e-StarWars.com have a large selection of old vintage Kenner Star Wars figures, ships, and vehicles from Star Wars, Empire Strikes Back, Return of the Jedi, and Power of the Force.


In addition we also sell old Star Wars catalogs, Star Wars instruction manual inserts, carded Star Wars figure backings, Star Wars collectors cards, Star Wars weapons and accessories, plus other miscellaneous Star Wars toy items dating from 1977-1985.

Every figure, ship, and playset listed on our website is for sale. However, there are a lot of Tusken Raiders out there who like to buy out our inventory quickly, so don't delay! Our vintage Kenner Star Wars toys are sold on a first-come, first-served basis, including the new Star Wars 30th Anniversary postage stamps issued by the U.S. Postal Service for sale!



The jawas had been experiencing some sandcrawler failure in the past, and they even had trouble running this website. But good news! The sandcrawler (A.K.A. Tatooine Toyland website) is functioning at 100%!


The jawas are so excited about their new and improved sandcrawler, that they cordially invite you to visit them in their new and improved bargain basement. This is their version of our modern day "open house."

There you will find a great assortment of discounted Star Wars toys for sale! While you are visiting, the jawas will direct you to a place where you can receive a special free gift!



In closing, Artoo and the gang at Tatooine Toyland can help you locate Star Wars toys not listed on our website, so please e-mail us your want lists! We will then notify you when we find the vintage Star Wars toy, and you can then make the purchase. We sincerely hope you enjoy your visit to e-StarWars.com and Tatooine Toyland, and please stop by again!




| | | |
| --- | --- | --- |
| Click on the laser | | Since February 1, 1999 |